The Gemini Control Center (GCC), developed by Prof. Dr. Daniel Görlich (Daniel@DocGoerlich.com), provides almost complete remote control and automation of the Gemini Astronomical Positioning System. With it, the observer can set most of Gemini's parameters remotely, can access extended databases, and can program observing sequences through user-defined entries. The GCC serves as both a user-friendly interface, and a customizable vehicle for operating a Gemini-connected telescope with control room comfort. It is also the first telescope control software of its kind to be developed, not only with visual astronomy in mind, but also to serve the needs of CCD imaging, photometry, and radio astronomy.
The following two screenshots show the GCC's Near Objects Screen, which calculates the position and current visibility of all the Solar System's planets, and the Earth's moon, every second to the second, and the Custom Mount Screen that let you define own German Equatorial Mounts that are not included in Gemini's default list of supported mounts. For a complete description of all the GCC's functions, please see its Users Manual, or simply follow the instructions below to download the 30-day trial version!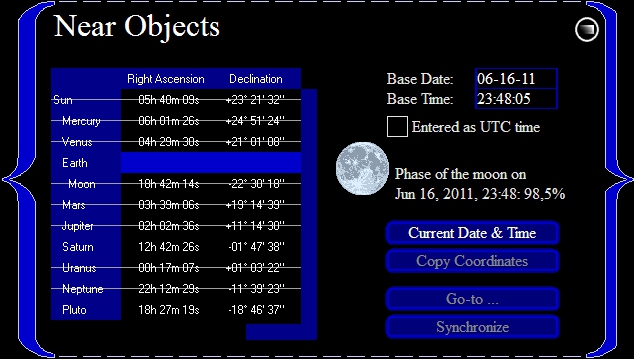 Compatibility
As of April 2011, GCC supports all Gemini level 5 features so far. You do not need to wait for a newer version to be released, because you will be able to simply update GCC when the new version is being released, without having to buy a new registration key. GCC has been designed for Windows and supports all Windows versions from Win95 till Windows 7. The support for Windows 2000 and earlier versions, however, expires, so that new features won't be tested with these Windows versions anymore.
By using a virtual machine such as VMWare Fusion 2.x, you can also run GCC on Macintosh computers. MacOS X and an Intel (x86) processor will increase the probability that GCC runs on your Mac.
GCC itself is not ASCOM-compliant, because it needs direct contact to Gemini in order to remotely control all its features and functions. However, you can use GCC and ASCOM applications at the same time by setting up an ASCOM Pass-Through Port as described in Appendix C of the GCC's Users Manual.


Download, installation & license purchase
You can download a trial version of the Gemini Control Center right now and test it for 30 days. Afterwards, if you want to keep using the GCC, you'll have to purchase a license that usually costs € 40, or an equivalent amount in US-$. The easiest way of payment is provided by PayPal - you only have to click the PayPal button -, but you can also send an e-mail and suggest another method of payment. The GCC will helpfully remind you when the trial period expires, and provide you an easy way to forward the registration data that is needed to build a valid key for you.
pay €40 (about US-$ 49)
or


Do you prefer another method of payment?

All you need to do is, download the installer, which already includes standard catalogs of celestial objects, observation site databases, color themes, the complete Users Manual, and add-on software for ports diagnostics and checksum calculation. To download the installer, click the left button; to download the Users Manual separately, click the right one! If you install GCC and purchase your license later on, you won't need to re-install GCC again, but only need to enter its registration key to make it fully functionally again.
If you don't want to purchase a GCC license, please tell me why: